NOTE: Following is a reply to the comment that linked to this page at The Huffington Post:
Now let's see a graph of the Jimmy Carter recession in the early 80's.
Thanks for referencing my site. However, as pointed out in the related blog entry linked to at the bottom of this page, the job growth from 2000 to 2008 was the worst for any 8-year period since the Great Depression. Of course, it is better to measure over an entire business cycle. As the table at the bottom of this page shows, the annualized job growth from the trough of 1973 to the trough of 1983 was about 1.8 percent. However, the job growth from the peak of 2001 to the peak of 2008 was just 0.6 percent. Also, I just calculated that the job growth from the trough of 2003 to January of 2009 (which may not be the trough) is about 0.54 percent. Hence, even if you were to give Carter the full blame for the 80-82 recession, he achieved far better annualized job growth (1.8 percent) over a full business cycle than did George W. Bush (0.6 percent).
Any comments can be posted following the aforementioned blog entry or these related blog entries.
---
12 MONTHS NET CHANGE IN NONFARM EMPLOYMENT, SEASONALLY ADJUSTED, THOUSANDS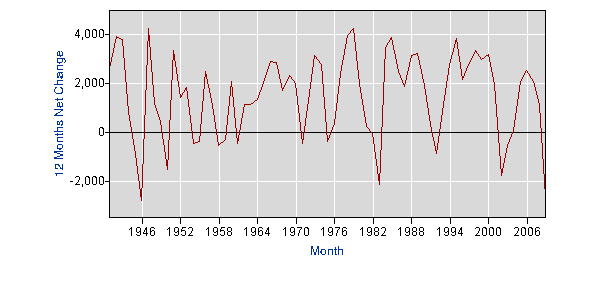 12 MONTHS PERCENT CHANGE IN TOTAL NONFARM EMPLOYMENT, SEASONALLY ADJUSTED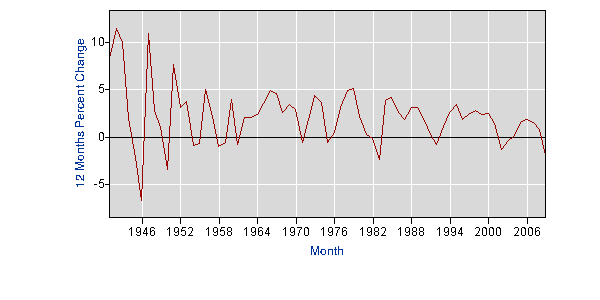 ---

 TOTAL NONFARM EMPLOYMENT AT END OF YEAR, SEASONALLY ADJUSTED, THOUSANDS

Year      0      1      2      3      4      5      6      7      8      9
---- ------ ------ ------ ------ ------ ------ ------ ------ ------ ------
1930                                                                 31539
1940  34172  38104  41915  42747  41861  39111  43379  44578  45028  43516
1950  46855  48308  50164  49702  49331  51805  52930  52385  52088  54175
1960  53743  54871  56027  57360  59420  62321  65199  66900  69245  71240
1970  70790  72108  75270  78035  77657  78017  80448  84408  88674  90669
1980  90936  90884  88756  92210  96087  98587 100484 103634 106871 108809
1990 109120 108263 109415 112206 116057 118207 121001 124358 127359 130532
2000 132485 130723 130183 130270 132351 134883 136982 138078 135489*

--------------------------------------------------------------------------
12 MONTHS NET CHANGE IN NONFARM EMPLOYMENT, SEASONALLY ADJUSTED, THOUSANDS

Year      0      1      2      3      4      5      6      7      8      9
---- ------ ------ ------ ------ ------ ------ ------ ------ ------ ------
1940   2633   3932   3811    832   -886  -2750   4268   1199    450  -1512
1950   3339   1453   1856   -462   -371   2474   1125   -545   -297   2087
1960   -432   1128   1156   1333   2060   2901   2878   1701   2345   1995
1970   -450   1318   3162   2765   -378    360   2431   3960   4266   1995
1980    267    -52  -2128   3454   3877   2500   1897   3150   3237   1938
1990    311   -857   1152   2791   3851   2150   2794   3357   3001   3173
2000   1953  -1762   -540     87   2081   2532   2099   1096  -2589*

--------------------------------------------------------------------------
12 MONTHS PERCENT CHANGE IN TOTAL NONFARM EMPLOYMENT, SEASONALLY ADJUSTED

Year      0      1      2      3      4      5      6      7      8      9
---- ------ ------ ------ ------ ------ ------ ------ ------ ------ ------
1940    8.3   11.5   10.0    2.0   -2.1   -6.6   10.9    2.8    1.0   -3.4
1950    7.7    3.1    3.8   -0.9   -0.7    5.0    2.2   -1.0   -0.6    4.0
1960   -0.8    2.1    2.1    2.4    3.6    4.9    4.6    2.6    3.5    2.9
1970   -0.6    1.9    4.4    3.7   -0.5    0.5    3.1    4.9    5.1    2.2
1980    0.3   -0.1   -2.3    3.9    4.2    2.6    1.9    3.1    3.1    1.8
1990    0.3   -0.8    1.1    2.6    3.4    1.9    2.4    2.8    2.4    2.5
2000    1.5   -1.3   -0.4    0.1    1.6    1.9    1.6    0.8   -1.9*

--------------------------------------------------------------------------
 8 YEARS PERCENT CHANGE IN TOTAL NONFARM EMPLOYMENT, SEASONALLY ADJUSTED

 End
Year      0      1      2      3      4      5      6      7      8      9
---- ------ ------ ------ ------ ------ ------ ------ ------ ------ ------
1940                                                    41.3   31.8   14.2
1950   11.8   13.0   19.8   27.1   13.7   16.2   17.5   20.4   11.2   12.1
1960    7.1   10.4   13.6   10.7   12.3   19.0   25.2   23.5   28.8   29.8
1970   26.3   25.7   26.7   25.2   19.1   16.6   16.2   18.5   25.3   25.7
1980   20.8   16.5   14.3   18.2   19.4   16.8   13.3   14.3   17.5   19.7
1990   22.9   17.4   13.9   13.8   15.5   14.1   13.2   14.3   16.7   20.6
2000   21.1   16.5   12.2   10.2    9.4    8.5    7.6    5.8    2.3*

* preliminary

Source: Employment, Hours, and Earnings from the Current Employment Statistics survey,
        Total Nonfarm Employment - Seasonally Adjusted - CES0000000001

---
Go to Related blog entry
Go to Budget Home Page